Wisconsin 4-H License Plates
The 4-H specialty license plate is now available through the Wisconsin Department of Motor Vehicles.  Bearing the 4-H Clover and the message "Empowering Our Youth", the plate offers the opportunity to show support of the 4-H program, as well as make a financial contribution.  The sale of each license plate will include a monetary contribution to the Wisconsin 4-H Foundation.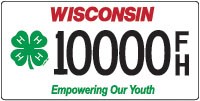 Half of the proceeds from every plate sale will go back to the county where the licensed vehicle is housed, and the other half will be used for state and regional 4-H programs.  Counties with license plate sales will receive a disbursement from the Foundation on a yearly basis, with a check payable to the county's Leader's Association.  The funds may be used to support the county 4-H program under the direction of the County Educator.
Vehicles that​​ qualify for the 4-H license plate include:
Automobiles
Motor homes (annual registration only)
Motor trucks

4,500, 6,000 or 8,000 pounds gross weight including dual purpose farm and dual purpose motor home
12,000 pounds gross weight farm truck
Persons requesting Wisconsin 4-H license plates will pay:
The regular registration fee for the vehicle if the current plates expire within three months or the vehicles has no plates.
$15 issuance fee or an annual $15 personalized plate fee, if requested.
$25 annual donation. The donation may be deductible.
4-H license plates may be personalized by paying a $15 personalized plate fee each year in addition to the $25 donation and regular annual registration fee. With each annual license plate renewal, 4-H supporters will pay the regular registration fee for non-personalized 4-H license plates and the $25 donation. ​
For more information, click on  this DMV Form