The Fall 2021 Tractor Supply Company
Paper Clover Campaign is just around the corner! 
October 6-17, 2021


Tractor Supply Company and Wisconsin 4-H Foundation have teamed up again to promote this Fall's Paper Clover Campaign. Each year Tractor Supply Company (TSC) does two fundraising campaigns that benefit Wisconsin 4-H.  The Fall campaign is October 6-17.  For every $1 paper clover sold at a Wisconsin TSC, 90 cents comes back to the Wisconsin 4-H Foundation to be used for leadership activities.
Tractor Supply stores in communities across the country have long supported 4-H clubs, and now, TSC has entered into an official partnership with the National 4-H Council as your source for 4-H project supplies. 100% of funds raised benefit 4-H. 90% fund State level leadership experiences and 10% supports National 4-H Council for administration. Tractor Supply Company guarantees a minimum donation of $200,000 per Paper Clover Campaign (or $400,000 a year). For more information about TSC, visit their website:  www.tractorsupply.com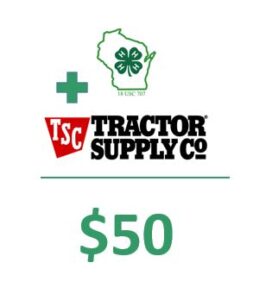 The Wisconsin 4-H Foundation is offering another way for clubs to participate:  if your club partners with your local TSC to promote 4-H at the store, the Foundation will give your club $50. TSC stores with 4-H clubs' participation have better sales, and, of course, better sales means more money that can be used to help fund leadership programs throughout the state.
There are many TSC stores in Wisconsin, so even if there is not a TSC in your county, you can still partner with a TSC that is closest for you. You must register with the Wisconsin 4-H Foundation before your event because $50 is awarded to only one club per store. In exchange, your club will provide pictures of your event that will become property of the Wisconsin 4-H Foundation for use in marketing and social media (please be sure to have all the proper releases).
PLEASE NOTE: TSC is prohibiting in-store displays. However, each manager can make decisions about permitting outdoor displays–so reach out to your store to make arrangements. Please contact the Wisconsin 4-H Foundation for store manager contact information should you need it.
If you are interested, please contact Joanne at the Wisconsin 4-H Foundation at Joanne@Wis4HFoundation.org or (608) 262-1597 (leave message). The Foundation can provide contact information for the store in your area, then your club and the store can work together to plan your event. Keep in mind that this opportunity is first-come, first-served (one club per store).