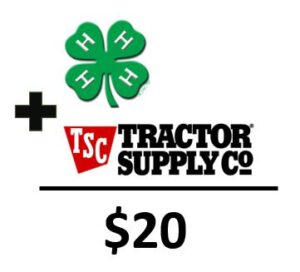 The Fall 2020 Tractor Supply Company
Paper Clover Campaign is set for: 
October 7-18, 2020
For participating, your club can earn $20.
NEW this Fall 2020:  If your promotion is chosen as one of the five best, your club can earn an additional $50!
See below for details on how to participate.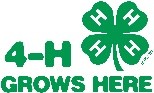 Each year Tractor Supply Company (TSC) does two fundraising campaigns that benefit Wisconsin 4-H.  The fall campaign is October 7 through October 18.  For every $1 paper clover sold at a Wisconsin TSC, 90 cents comes back to the Wisconsin 4-H Foundation to be used for leadership activities.
Previous years, the Foundation has offered an incentive to 4-H clubs to plan an in-store activity or display during the Paper Clover Campaign.  This year, TSC is requesting no physical presence from 4-H programs at their stores including outdoor spaces like parking lots.   So we are doing something a bit different.  We are asking that clubs get creative with their social media, emails, displays (stand-alone – not staffed) or any other promotion.  Any club that does a promotion with a store the week before or during the fall paper clover campaign and provides the Foundation with photos, clippings and/or screen shots, the Foundation will give that club $20.  And, if the promotion is chosen as one of the five best, the Foundation will give the club an additional $50.
Here are the rules:
Ask the 4-H Foundation (Joanne@Wis4HFoundation.org) for information about the TSC store (locations and store manager name).
Call the store manager with ideas about what you would like to do (display, photo board, contact with local media, social media, etc.).  Your activity must be the week prior to the paper clover campaign or during the paper clover campaign, and must promote 4-H and the TSC Paper Clover Campaign.
Ask for ideas from the store manager and permission to move forward with ideas that you believe will work.
Get promoting!
Take photos and get those to the Foundation as soon as possible (especially if it's early in the campaign – we will use those photos on social media to promote the campaign).
Report your experience to the Foundation via email – joanne@wis4hfoundation.org.  Include a description of what you did and include what store, the date(s) of the promotion, the results of your promotion and at least one photo of your promotion.  Reports must be received by November 1, 2020, to be eligible for cash awards.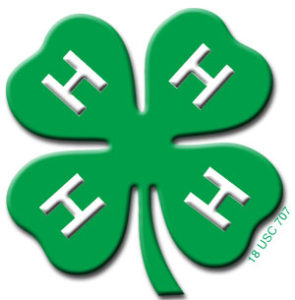 We are going to have to use all our creativity with social networks, emails, displays, and anything else you can think of to get people to donate. Let's get promoting Wisconsin 4-H!