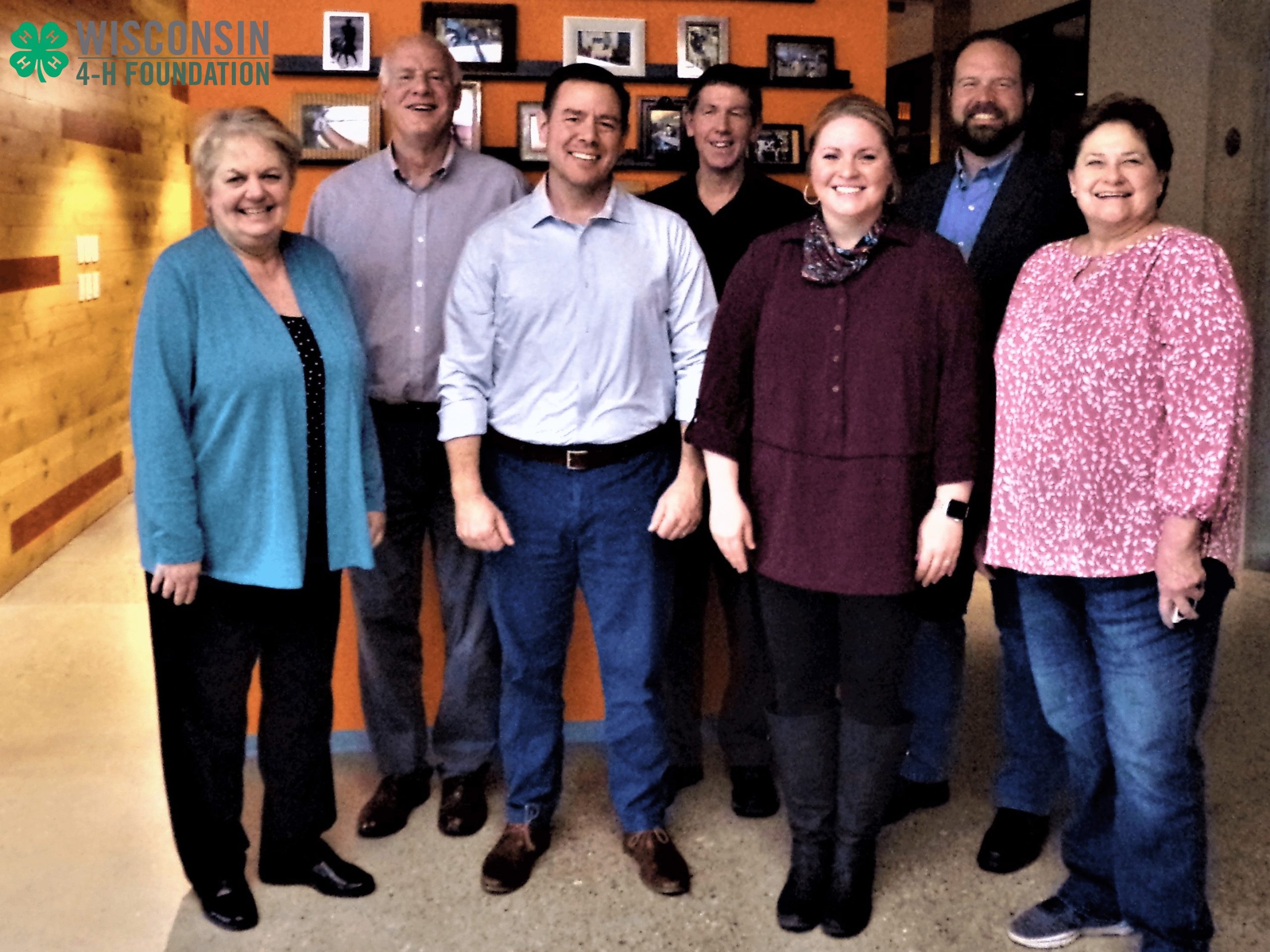 L-R: Treasurer Nancy Bilz, President Charlie Crave, Secretary Jeff Millard, Ron Gerrits, Vice President Brianna Ripp, Brian Preder, Pam Jahnke
Officers
Charles Crave
President
Charles Crave is a founding partner of the Crave Brothers Farm and Crave Brothers Farmstead Cheese in Waterloo, WI. He has also been a 4-H Club leader for over 30 years.
The national 4-H Dairy Conference has been welcomed by the Crave Brothers Farm for 20 years. Charles has served as a chaperone and planning committee member over that time. He was been an international 4-H youth exchange representative and leader since 1974.
Brianna Ripp
Vice President
Brianna Ripp grew up on her family's dairy and crop farm near Browntown, Wisconsin. Rooted in 4-H from the very beginning, Brianna participated and graduated from the 4-H Program in Green County. There she enjoyed involvement with performing arts, clothing, photography, showing dairy animals and much more. 4-H taught her so much about leadership and helped prepared her for future endeavors. It's this experience that drove her to join the Wisconsin 4-H Foundation Board.  With agriculture as her foundation, Brianna graduated from the University of Wisconsin-Madison with a degree in Life Sciences Communication and works in agri-marketing at Filament, a Madison-based agency focused solely on agricultural clients. She resides in Dane with her husband Ryan and two children, Avery and Bowen.
Jeff Millard
Secretary
Jeff Millard treasures his lifelong friends made during his years as a 4-H member. Many were created during those formative teenage years, while working together to serve Wisconsin 4-H. Favorite activities included: State and District Councils, State Conference, WI Showcase Singers, National Conference/Congress, creating an advertising campaign with the National Ad Council, teen/summer/arts camps and of course, the Winnebago County Fair. After serving in college as a WI 4-H Foundation youth representative, Jeff is honored to be serving 4-H once again.
After Winnebago County 4-H and since graduating from UW-Madison, Jeff has worked in the vertical transportation industry (Elevators/Escalators). Through many ups and downs, his roles have included: construction sales, maintenance sales, sales and product management, international strategy, internal growth consultant and Branch Manager.  Currently Jeff remotely leads vertical transportation bid pursuits for airports, metros and high-rise buildings in the Pacific Southwest. These roles have required Jeff to live abroad (Outside of Wisconsin) until 2019 when nothing felt better than moving home to Wisconsin with his family. Today, Jeff is pleased to have his two children as 4-H Members in Ozaukee County. 
Nancy Bilz
Treasurer
With over 40 years of experience in the accounting and finance sectors, Nancy Bilz is currently Chief Financial Officer and Vice President of Finance with Equity Cooperative Livestock Sales Association headquartered in Baraboo, WI. Equity is Wisconsin's largest livestock marketing agency with ten markets in Wisconsin and one in northeast Iowa and is a federated cooperative.
Nancy graduated from University of Wisconsin-Whitewater with a Bachelors of Business Administration in Accounting. Prior to joining Equity, Nancy spent 20 years as an Internal Auditor with two large Wisconsin-based bank holding companies and served as Controller for a Baraboo based bank.
Nancy was active in 4-H as a youth in her hometown of Janesville, WI. Currently at Equity she assists a number of Wisconsin counties with their 4-H livestock sales. She previously has served as Treasurer at the Wisconsin 4-H Foundation and has volunteered for another term.
Nancy and her husband, Roger, live in rural Sauk County near Baraboo and they have two adult children.
---
Ron Gerrits
Ron Gerrits was an active 4-H member from Brown county. In addition to projects, he participated in speaking, drama, music, and sports competitions, attended 4-H camp as a participant and counselor, traveled to State 4-H Congress, Citizenship Washington Focus and National 4-H Conference and served as president of the State Youth Leader's Association. Ron credits his 4-H experiences with helping him develop communication and leadership skills and for creating many lifelong friendships and fond memories. Ron currently resides in Sheboygan with his wife and two 4-H member children. As an adult 4-H leader he chaperones 4-H camps and is a member of the county 4-H Camp Riversite committee.  
Ron is a graduate of the Milwaukee School of Engineering and the Medical College of Wisconsin. For the past 21 years he has been a full-time faculty member at the Milwaukee School of Engineering, mainly teaching health science courses and performing administrative duties. In addition to 4-H, he is an active member of several lake-related organizations aimed at improving water quality and professional societies focused on improving education.
Pam Jahnke
Getting up at 2 in the morning might shock some of her listeners, but for Pam Jahnke, it's part of the business. Born in Northeastern Wisconsin, Pam Jahnke grew up in agriculture. Raised on her family's 200 acre dairy farm, she learned the "farm work ethic" first hand. Jahnke has been dedicated to agriculture throughout her life being actively involved in both 4-H and FFA activities. She happily served as a 4-H camp counselor, was a dairy exhibitor in county fairs, and even reigned as Oconto County's Dairy Queen.
At the UW-River Falls, Jahnke studied broadcast journalism and broad area agriculture. She started that campus's first ever "Farm Show" on radio, and received the top national scholarship from the National Association of Farm Broadcasters (NAFB). After college, Jahnke moved into her chosen field, doing farm broadcasting, radio and television, from Green Bay to Eau Claire, WI – and she's never looked back. Jahnke often says she feels like farm broadcasting and communicating on behalf of food producers is exactly what she was made for.
More recently Pam served as the 2010 president of the National Association of Farm Broadcasting, and in 2013 was named Farm Broadcaster of the Year.
In her spare time, Pam is active farming in partnership with her brother, sister and parents on the home farm.
Brian Preder
Brian Preder grew up on a dairy farm in Weyauwega in Waupaca County and graduated from River Falls with a Bachelors degree in Dairy Science. He's worked as a herd manager, for GENEX as the Shawano Production Site Manager and is currently at Dairyland Chopping, based in Weyauwega. 
Preder is District 7 Director of the Wisconsin Farm Bureau, representing Langlade, Marinette, Oconto, Outagamie, Shawano and Waupaca counties. He has been active at his county fair and in 4-H and FFA. 
Board Liaisons
VACANT
4-H Program Liaison
Deb Ivey
4-H Agent Retiree Liaison
Sofie Teller Cloud
4-H Educator Liaison
Karl Martin
UW-Extension Liaison
Isaac Nagel 
Youth Leadership Council Liaison, Calumet County
Kathy Brubaker
Adult Leadership Council Liaison, Pierce County