2017 Contest Submissions are now being accepted.
Please visit the link below to find out more and complete the online application form:
---
2016 Ice Cream Flavor Creation Contest Winner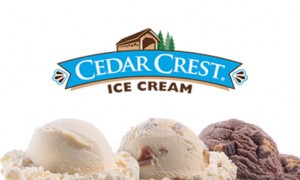 Deep Woods, developed by the Baraboo Valley 4-H Club, was chosen as the winner of the 2017 Cedar Crest Ice Cream 4-H Flavor Contest.  Selected as the winner from the field of dozens of contestants, Deep Woods will be available statewide in time to celebrate June Dairy Month in 2017.
The winning flavor features vanilla ice cream with swirls of maple syrup and crunchy pecans.  This flavor will be available in three-gallon tubs and on sale throughout the summer at ice cream parlors that serve Cedar Crest Ice Cream.  It will also available for sale at summer fair and festival food stands. To order Deep Woods, call 800.877.8341.
The Baraboo Valley 4-H Club will enjoy a Cedar Crest Ice Cream Party and a $300 cash prize. The club is led by Debra Nieuwenhuis of Sauk County.
"We are excited to continue this partnership with Cedar Crest, which allows 4-H clubs across the state to work together and put into practice the goals and mission of 4-H," says Brenda Scheider, Director of the Wisconsin 4-H Foundation.  "Congratulations to the Baraboo Valley 4-H Club for their teamwork experimenting with different flavors to create the winning flavor."
Cedar Crest is a long-time 4-H supporter.  The ice cream flavor contest is just one way that 4-Hers partner with Cedar Crest.  The winning flavor in the 2013 contest was CranRaspberry Cheesecake created by the Sunnyside Climbers 4-H Club of Plover.  In 2014 the Dykesville Dolphins 4-H Club crafted the centennial flavor Udder Delight. The winner for 2015 was Waupaca County's Friendly Valley 4-H Club's Big Muddy.  Last year the Badger Boosters 4-H Club of West Bend created Deep Space.
Entries in this year's contest were evaluated by a panel of judges chosen by Cedar Crest's staff. Cedar Crest currently manufacturers over 80 flavors of ice cream at its Manitowoc facility, and distributes product in five states.
---
Some past feature flavors include:
Big Muddy
Dark Chocolate flavored Ice Cream with a Caramel Swirl and Brownie pieces
Udder Delight
Vanilla ice cream with chocolate-covered waffle cone pieces, fudge ribbon and peanut butter cups
Shipwreck
Vanilla ice cream with a sea salt caramel ribbon and candied almond splinters
Jumping Jersey Cow
Peanut butter flavored ice cream blended with chocolate-coated caramel mini cows and swirled with chocolate fudge
Elephant Tracks
Pieces of peanut butter cups and chocolate swirled in chocolate ice cream
---
All entries into the Cedar Crest Ice Cream Flavor contest become the sole property of Cedar Crest Ice Cream.  Any images, descriptions, photos or other material submitted as part of the contest may be used at the discretion of Cedar Crest Ice Cream and the 4-H Foundation for promotional purposes.